Dance For Joy Concert
March 10, 2019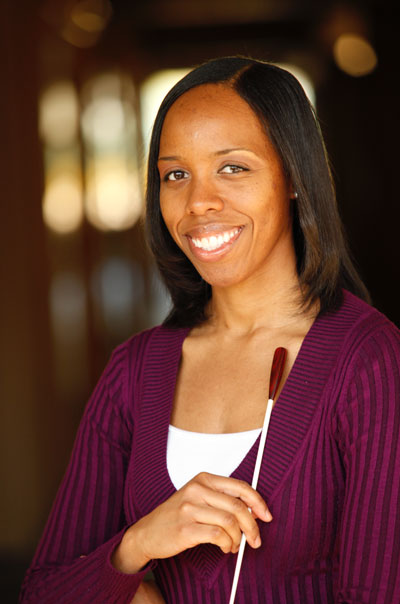 Praised for her "brilliant conducting skills" (Chicago Tribune) Kalena Bovell was named Music Director of the Civic Orchestra of New Haven and will begin her tenure for the 2018 – 2019 season.
Described as a conductor who possesses innate confidence and charisma, Kalena has held conducting fellowships with the Allentown Symphony and the Chicago Sinfonietta. As a fellow with Sinfonietta, she worked closely with Mei-Ann Chen and was part of Maestro Paul Freeman's vision of fostering and promoting cultural diversity within classical music. Because of her success in the program, Kalena was made assistant conductor for the 2016 – 2017 season and made her professional debut with them as part of the MLK Tribute concerts in Chicago's Symphony Center. Also, that year Kalena was a Semi Finalist for Marin Alsop's prestigious Taki Concordia Fellowship. In 2015 she was awarded 3rd place in the American Prize for the college/university division.
Kalena has been fortunate to work with the Memphis Symphony Orchestra, St. Louis Symphony and the Hartford Symphony. She assisted Mei-Ann Chen for her final masterworks concert with the Memphis Symphony Orchestra, conducting the off-stage brass in Mahler's First Symphony. She has also served as cover conductor to Gemma New, Carolyn Kuan, Bill Eddins and Gerard Schwartz. An active participant in workshops and festivals, Kalena has worked with renowned conductors Larry Rachleff, Donald Schleicher, Johannes Schlaefli, Maurice Peress, Jorge Mester, Diane Wittry, Kenneth Kiesler and has received coachings from Michael Morgan, Rossen Milanov, Gerard Schwarz and Bill Eddins.
Currently the Orchestra Director at the Loomis Chaffee School, Kalena received a Master's Degree and Graduate Professional Diploma in instrumental conducting from The Hartt School. She was a student of Edward Cumming.
---
Concert Details
Dance for Joy, under the baton of guest conductor Kalena Bovell with guest violinist Clara Kim, and performances by dancers from both the CCSU Dance Company, and the END Ensemble. The program will include well known dance related works from the world of opera, ballet, and orchestral music:
Glinka's Ruslan and Lyudmila Overture, written between 1837 and 1843, is based on a poem by Alexander Pushkin and is a mainstay of the Bolshoi Theatre, having been staged more than 900 times. The overture, which is often described as rollicking and exuberant, is one of the best- known orchestral showpieces in Russian music. Wikipedia also describes it as "known for being a nightmare for bassists."
Dvořák's Slavonic Dance op. 46 No. 2 (1878), originally written as a piece for piano four hands, is a "dumka" or pensive and thoughtful piece, although it also bursts with enthusiasm and energy. Choreographer Erica Nelson has created a dance piece for her END troupe which will be performed onstage during the work.
Max Bruch's Violin Concerto in G minor, written in 1866, is one of the most popular violin concertos in the orchestral repertoire. Guest violinist Clara Kimis an internationally renowned, award winning performer who holds a doctorate from USC and is currently an Artist Diplomate candidate at the Juilliard School of Music.
Gounod's "Faust" Ballet Music is comprised of 7 short dance pieces added to Gounod's original opera for a performance at the Paris Opera in 1869. The music became so popular that George Balanchine created Walpurgis Nacht as an independent work based on the opera's joyful ballet music.
Manuel De Falla's La vida breve, Spanish Dance No. 1, written in 1905 but not performed until 1913, is arguably one of the best -known works in the Spanish music repertoire. Choreographer Felipe Puletini and members of the CCSU Dance Company will perform onstage to the folk music inspired piece, which is also frequently played by two guitars.
Rimsky-Korsakov's Capriccio Espagnol, op. 34 was originally a piece for solo violin, and is a five -part work, played continuously, which begins with a depiction of dawn and ends with a rousing fandango. After its first performance in 1887, the composer dedicated the piece to the orchestra in gratitude for their enthusiasm for the work.
Special Thank You to the CCSU Dance Program Director, Catherine Fellows