Adventure and collaboration are at the heart of violinist Clara Kim's multi-faceted career as new music performer, chamber musician, and educator.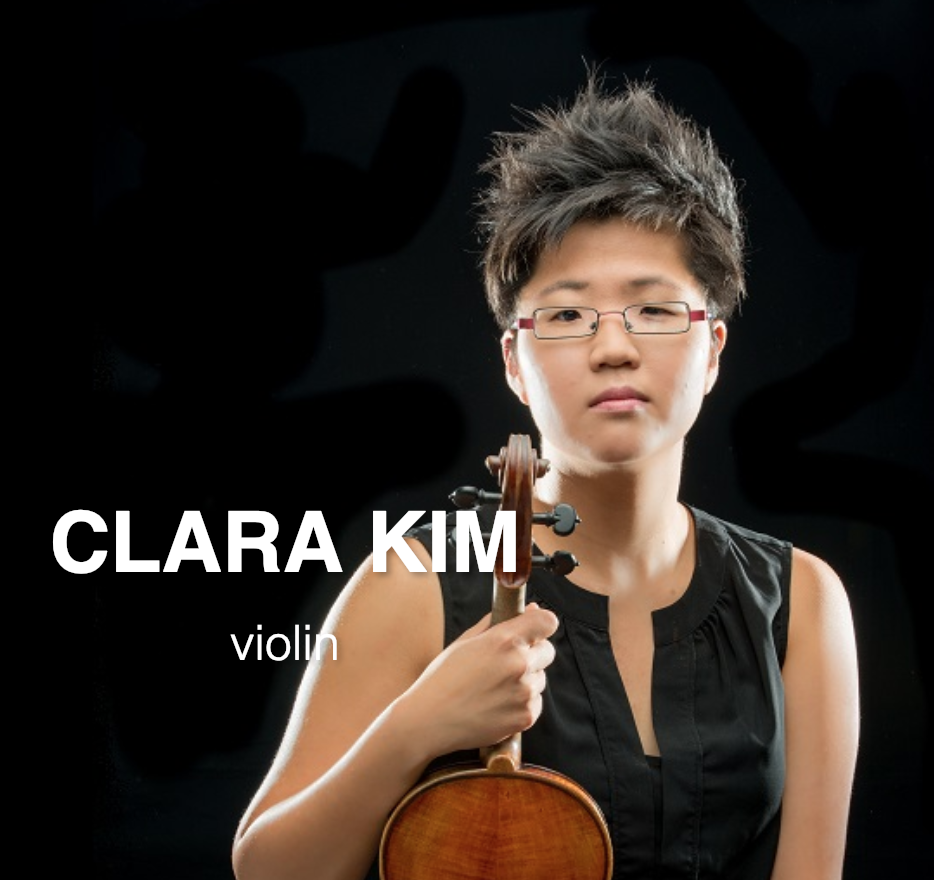 By commissioning, premiering, and championing works from living composers, Clara has quickly established herself at the forefront of her generation in the interpretation of contemporary music. She has had the honor of working with some of today's most celebrated and imaginative musical voices such as Chris Theofanidis, Martin Bresnick, Augusta Read Thomas, Grammy Award-winning Stephen Hartke, Kaija Saariaho, Jacob TV, and the Sleeping Giant Collective.
In 2015, Clara commissioned and premiered Jordan Nelson's Concerto for Violin, Four Singers, and Chamber Ensemble, as well as another violin concerto in 2018 for solo violin, ensemble by Patrick O'Malley. Other concerto highlights have included performances of Edward Nesbit's Violin Concerto with Montreal's Nouvel Ensemble Moderne (Domaine Forget, Canada) and Jonathan Harvey's Scena with Thornton Edge (Los Angeles, California).
Clara's passion for new music has led to performances at Columbia's Miller Theatre, Albany's American Music Festival, Amsterdam's Concertgebouw, and Princeton Sound Kitchen, as well as at Carnegie's Zankel Hall as part of the Kronos and American Soundscapes workshops. She is the first prize winner of the 2012 International Solo Violin Competition in Cremona, Italy.
Dedicated to collaboration at the highest artistic level, Clara's largest project to date is the Argus Quartet, a string quartet committed to connecting with audiences through both traditional and new music. Argus is the first prize winner of the MPrize Chamber Arts Competition and the Concert Artists Guild Victor Elmaleh Competition, and has been in residence at the Caramoor Center for Music and the Arts, James Madison University's Contemporary Music Festival, and Yale University. Currently, the quartet serves as the Graduate Resident String Quartet at The Juilliard School in New York City.
With this adventurous and versatile ensemble, Clara has performed at top venues such as Carnegie Hall, Muziekgebouw aan 't Ij, Roulette, Bang on a Can at Noguchi Museum, the Shalin Liu Performance Center at Rockport Music, and Music Academy of the West. Argus has received a Chamber Music Commissioning Grant and a Tarisio Trust Young Artists Grant in support of their commissioning and recording projects.
Clara also dedicates much of her energy to community engagement work and education. She has taught at a number of leading academic institutions, including the University of Southern California where she also coordinated the Non-Major Strings Program. She currently directs Midori's Orchestra Residencies Program, where she coaches and performs as Midori's duo partner, and will be on faculty this summer at the Interlochen Violin Institute, Juilliard Nord Anglia Summer Performing Arts Program, and Greenwood Junior Music Camp.
Clara holds degrees from Tufts University (English Literature, Magna Cum Laude), New England Conservatory (Pi Kappa Lambda), the Royal Conservatoire of The Hague, and a doctoral degree from the University of Southern California's Thornton School of Music (Pi Kappa Lambda), where she received the Pi Kappa Lambda Doctoral Award. She is currently an Artist Diploma candidate at The Juilliard School.
---
Concert: Dance for Joy, March 10, 2019
Under the baton of guest conductor Kalena Bovell