Click HERE for the performance!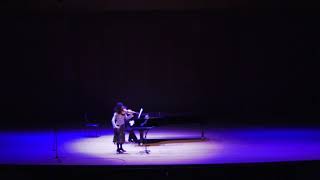 Svetla Kalcheva has performed as a soloist, chamber musician, and an orchestra violinist on stages across Europe, Asia, and the United States including Carnegie Hall, New York, the Bulgarian Concert Hall, Sofia, the Shanghai Grand Theater, the Beijing National Center for Performing Arts, the Shenzhen Concert Hall, and the Royal College of Music, London.

Svetla's first performance with the New Britain Symphony Orchestra was at our fall main stage concert, "Toshi's Choice", on November 10, 2019. She said it was a wonderful experience!

Svetla earned her Doctorate in Musical Arts Degree in Violin Performance at the University of Missouri-Kansas City and her Bachelors and Masters Degrees at the Pancho Vladigerov National Conservatory of Music, Sofia, Bulgaria. Currently, Svetla is an Assistant Professor at Molloy College.